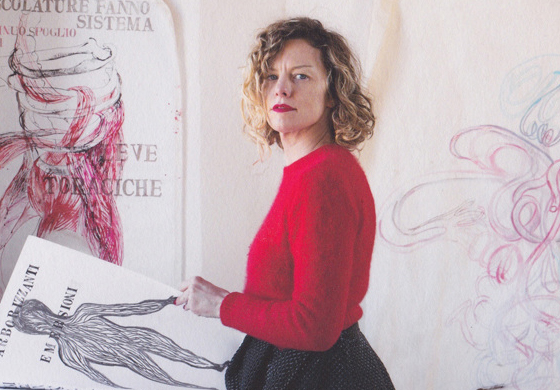 Sissi
Sissi / Tramordito
Sissi (Bologna, 1977).
Lives and works in Bologna. Sissi works with sculpture, drawings, installation, performance, creating a dialogue between space and opera.
.
Using plastics, iron, bamboo, ropes, fabrics the artist takes everything is surrounding her, transforming the materials in evocative shapes. Solo exhibitions: in 2010, Addosso, Fondazione Pomodoro, Milan, La fantasia morde nella piega in bilico, Galleria Francesco Pantaleone, Palermo, Al di la dello sguardo al corda lega, in 2008, Mizuma Gallery, Tokyo; in 2007, Voliare, Collezione Gori, Pistoia; in 2006, Nature, Chelsea Art Museum, New York, in 2004, Nidi, MACRO, Rome; in 2003, The Walk, W139, Amsterdam; in 2001, Aerea, MoCA, Miami. In 2009 exibited in the Padiglione Italia, Collaudi, 53 Venice Biennal in the Collective Global Feminism, Brooklyn Museum, New York, 2007.