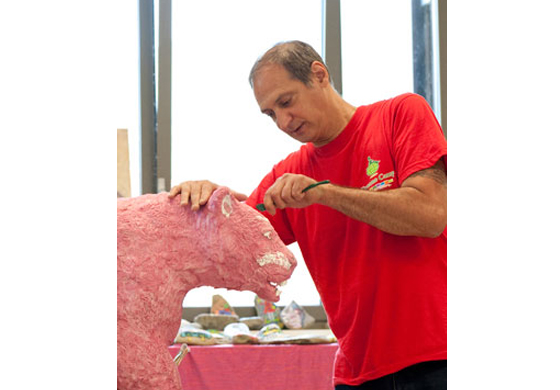 Maurizio Savini
Maurizio Savini / BAD
Maurizio Savini (Rome, 1962).
Lives and works in Rome. In his sculptures we find a dummy Pop aspect suggested by the use of pink chewing-gum..
his use becomes a pretext for a description the genetics modifications occurred in the post industrialized society and in the environment. His sculpture is bizarre and surreal at the same time, underpinned by social and politic dimensions that refer to a broader reflections on the environmental consequences caused by human action. Main solo and collectives exhibitions: Düsseldorf, London, Paris, Taipei, La Havana, Lion, Edinburgh. He works on stage sets, as in the Parsifal Opera by Wagner for Maggio Musicale Fiorentino. He also took part in public spaces installation projects such as the Rome Quadriennale, 2007, Cantina Icario in Montepulciano. Between 2008 and 2009 he worked on two projects for the Modern Museum Art of St-Étienne Métropole, and on a solo exibition in the Oredaria Gallery, Rome.