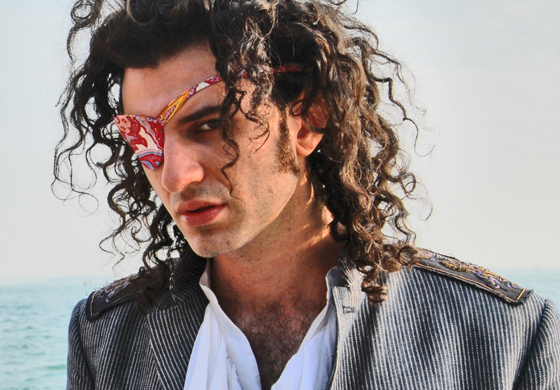 ConiglioViola
ConigliViola / Pirate Rabbit Limited Edition
ConiglioViola & Artbeat present "PIRATE RABBIT", a limited edition resin sculpture that celebrates one of the most spectacular and emblematic works of the Italian artist collective ConiglioViola, The Pirate Attack on Venice Biennale. On June 7th 2007 an enormous winged Rabbit with one eye covered with a pirate's eye patch, sailed the canals of Venice on board a large raft and fired 52 cannon shots, one for each Biennale editions.
ConiglioViola is an art group founded in 2000 by Brice Coniglio and Andrea Raviola.
From video art to multimedia theatre, from electronic music to performance art, from net.art to photography, there are few areas of contemporary art that have not been explored and ironically subverted by the tentacular operations of ConiglioViola: "Renaissance workshop of the digital era" and genuine "brand". Well-known at the international level thanks to spectacular operations such as the Pirate Attack on the Biennale di Venezia (2007), ConiglioViola is devoted to a radical and cross research into POP-ular culture, and especially into those shared cultural myths and clichés through which society represents and hide itself.
Among the various project starring ConiglioViola, besides the Pirate Attack on Venice Biennal, must be mentioned: the net-artwork La meditazione di Yolanda (Yolanda's Meditation), the theatre show Recuperate Le Vostre Radici Quadrate (Reclaim Your Square Roots), the cover of Pagine Bianche Piemonte (Piedmont Phone Book) (2007), the Nous deux project with Unicredit&Art (Paris, 2007), as well as several collaborations: with the Italian singer Loredana Bertè, the fashion designers Etro, Vivienne Westwood and Antonio Marras, the art critics Achille Bonito Oliva and Patrizia Sandretto Re Rebaudengo (performing the unconventional role of actors), the IRAA Theatre Company and the director Valter Malosti.
In 2009 the Milan PAC (Contemporary Art Pavilion) dedicated to ConiglioViola a remarkable solo exhibition entitled Sono un pirata/Sono un signore (I'm a pirate/I'm a gentleman). The exhibition was visited by more that ten thousand people in just ten days.